Conference 2015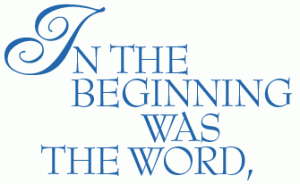 Conference 2015 is Now Fully Booked!
Cancellations: Unfortunately Conference 2015 is now fully booked however, Kilkenny Education Centre are putting people on a waiting list. The hard working crew in Kilkenny have assured us that should people cancel their booking they will replace them immediately. Unfortunately we cannot cater for more people and while we appreciate the interest the venue has limitations. As in previous years the content will be available online as soon as possible.
As the event takes place on a Saturday there will be cancellations so get your details into Kilkenny Education Centre as soon as possible and hopefully we will see you there. (Liz)
Revised Full PDF Here
Original Post
Dear English Teachers,
INOTE are thrilled to announce Conference 2015, "In the Beginning was the Word". As always we hope to have something for everyone. Roddy Doyle has agreed to be our Keynote Speaker but "with less of an emphasis on the speaking and more on the writing".
Donal Ryan will take time away from his writing and students in UL to share some creative writing tips with us. Frances Rocks returns to assist with literacy and give us those longed for nuggets/mountains of wisdom so longed for in the classroom.
Our final session is over to you. Light Bulb moments from the very best, you the practitioners.
It's been a busy and eventful year for us all and we hope to see you on October 3rd.
Kind regards,
Liz Farrell